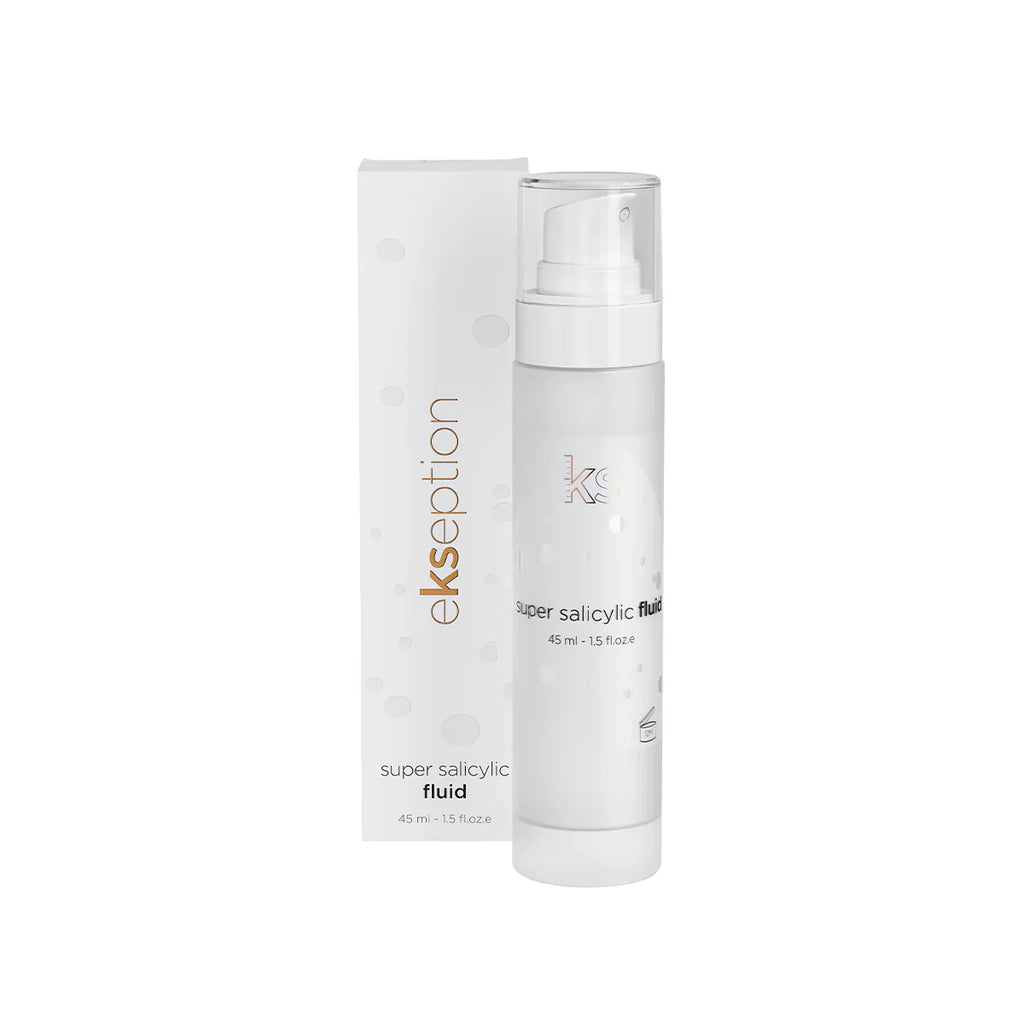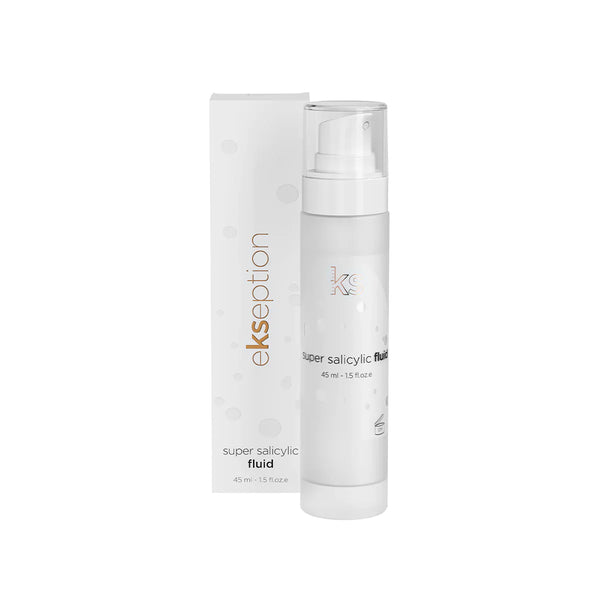 Ekseption SUPER SALICYLIC FLUID
Regular price
$108.00
/
---
A revolutionary serum for acneic skin. Formula to reduce oily skin and imperfections. The product can be used in the evening, on a regular basis, combined with a sun protector during the day. This concentrate of active ingredients that includes betaine salicylate, niacinamide, ZincPCA and hyaluronic acid. (45 ml)
Benefits
•Reduce acne.
•Reduce redness and inflammation.
•Improves the skin softness.
•Reduce post-acne scars.
Oil-free formulation created for acneic skin. it does not contain emulsifiers or thickeners and its texture comes from the use of 2 types of low and high molecular weight hyaluronic acid. We have also incorporated a transdermal booster to promote the penetration of active ingredients.
How to Use
Apply a few drops of serum once daily after cleansing and toning. At night, layer with other treatment products as needed; during the day use a sunscreen.
Ingredients
Active Ingredients:
- Betaine salicylate
- Hyaluronic acid
- Zinc PCA
- Niacinamide
Betaine salicylate is a keratolytic beta hydroxy acid (BHA), similar to salicylic acid, which resurfaces the skin, improving skin tone and texture. Unlike salicylic acid though, betaine salicylate is surprisingly gentle on the skin.

Hyaluronic Acid is the most hydrated biopolymer known.Hyaluronic acid helps restore and maintain maximum levels of skin hydration.

Niacinamide is an enzyme known to improve skin elasticity, the appearance of fine lines and wrinkles, to reduce redness and pigment spots as well as sebum secretion. With its action on the synthesis of proteins such as keratin, lipids such as ceramides, it relieves itching. Niacinamide reduces the level and growth of C. acnes, and optimise the skin microbiome.

Zinc is one of the minerals widely studied and used for acne skin types. Considerable scientific research has shown that zinc reduces sebum secretion by inhibiting 5-alpha-reductase. In order to increase its efficacy, we combine zinc with L-pyrrolidone carboxylic acid (L-PCA), considered a physiological moisturizer in cosmetology.
Other Ingredients:
Aqua (Water). Butylene glycol, Glycerin, Ethoxydiglycol, Betaine salicylate, Sodium lactate, Niacinamide, Zinc PCA, Sodium hyaluronate, Phenoxyethanol, Triethylene glycol.