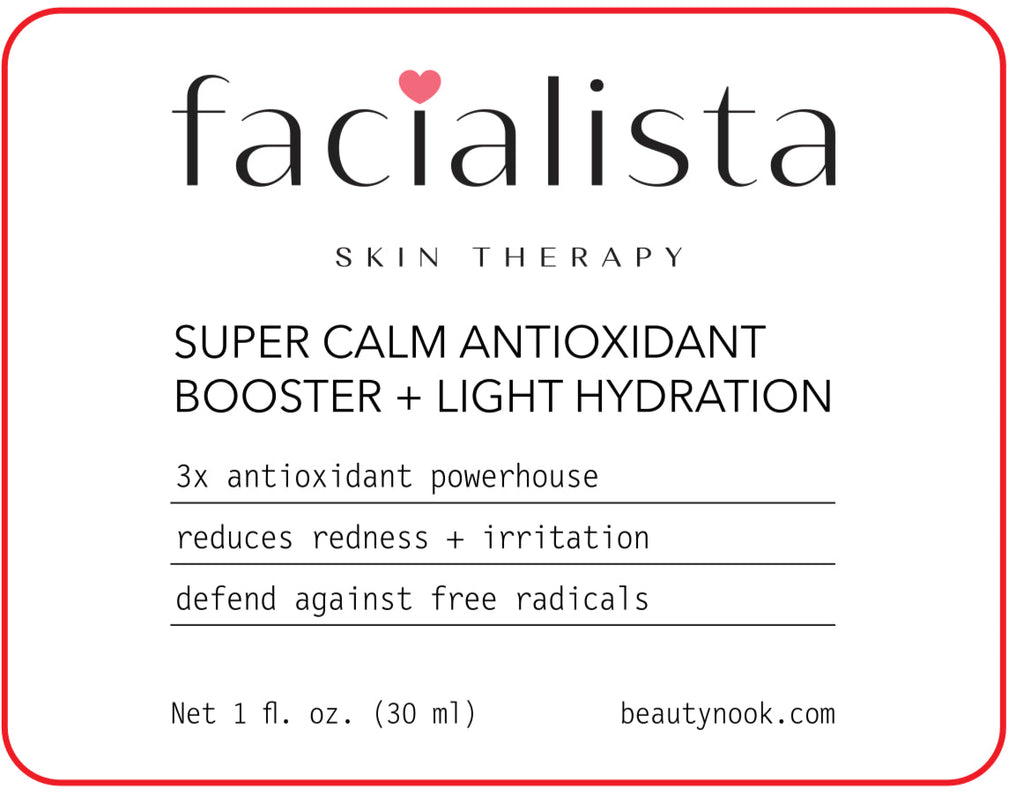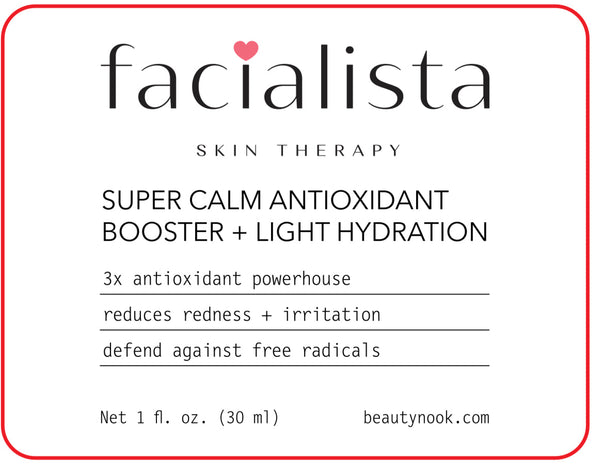 Facialista Super Calm Antioxidant Booster
Regular price
$170.00
/
---
Your skin has an elaborate antioxidant system to help it survive stressors, one of the biggest is UV sun exposure. Unfortunately, we know that chronic and excessive UV exposure often overwhelms your skin's antioxidant capacity resulting in premature aging, inflammation, and non-melanoma skin cancers. Topically applied high-quality, high-concentration green tea polyphenol antioxidants help boost DNA repair, which is a key step in preventing skin damage.
The concentration and purity of green tea EGCG polyphenols is unsurpassed in Super Calm Antioxidant Booster + it can be used as both a serum and daily moisturizer.
The trick to harnessing the benefits of topical green tea antioxidants is getting enough of the right green tea compounds. Just adding "green tea" to a skin care product isn't good enough. You need high concentrations of the right polyphenol antioxidants to reap the benefits. Super Calm Antioxidant Booster has the polyphenol antioxidant content of 500 cups of green tea in the 1oz pump bottle - and it's the "right stuff" including the compound EGCG (epigallocatechin 3-gallate) which is the major preventative antioxidant polyphenol component in green tea.
We have been using this in the clinic for years and have seen major results! It's also acne + rosacea safe  
In addition to green tea polyphenols, Facialista Super Calm contains caffeine (shown to augment the anti-cancer effectiveness), hyaluronic acid (to hydrate and plump your skin), and resveratrol (the antioxidant that gives red wine its health benefits).
This professional-strength green tea daily hydrator is a key component in most of the facial skin care routines that our master aesthetician uses to treat rosacea, facial dandruff (seborrheic dermatitis), and sun damage. She also uses it to help clients successfully tolerate anti-aging skin care products like more potent levels of retinol (Retin A) and glycolic acid.
You Will Love This If: 
You're really serious about using the best and most impactful anti-aging facial skin care.
Studies have shown that these antioxidant ingredients can help protect the skin from free radical damage due to sun and environmental stresses. Free radicals damage skin, causing skin cancer and wrinkles. We recommend using this product along with your other acne and age management  treatments - it belongs in any serious skin rejuvenation regimen.
You're at an increased risk for non-melanoma skin cancers.
Scientific studies have shown that green tea polyphenol antioxidants applied to the skin together with caffeine actually reduce skin cancer formation.
You're struggling with facial inflammation and redness.
We have seen this professional-strength Super Calm Cream/Serum reduce facial redness and skin inflammation in hundreds of clients. This includes people with rosacea, facial dandruff, acne, and redness from sun damage and irritating strong facial treatment products like Retin A or glycolic acid.
You are looking for a product that gives you a very light facial skin hydration.
This incredible treatment is both serum AND moisturizer. It's formulated in a light textured cream that's loaded with hyaluronic acid. This makes it an excellent chouse for those all skin types.
Facialista Super Calm Antioxidant Booster layers nicely with your other skin care products.