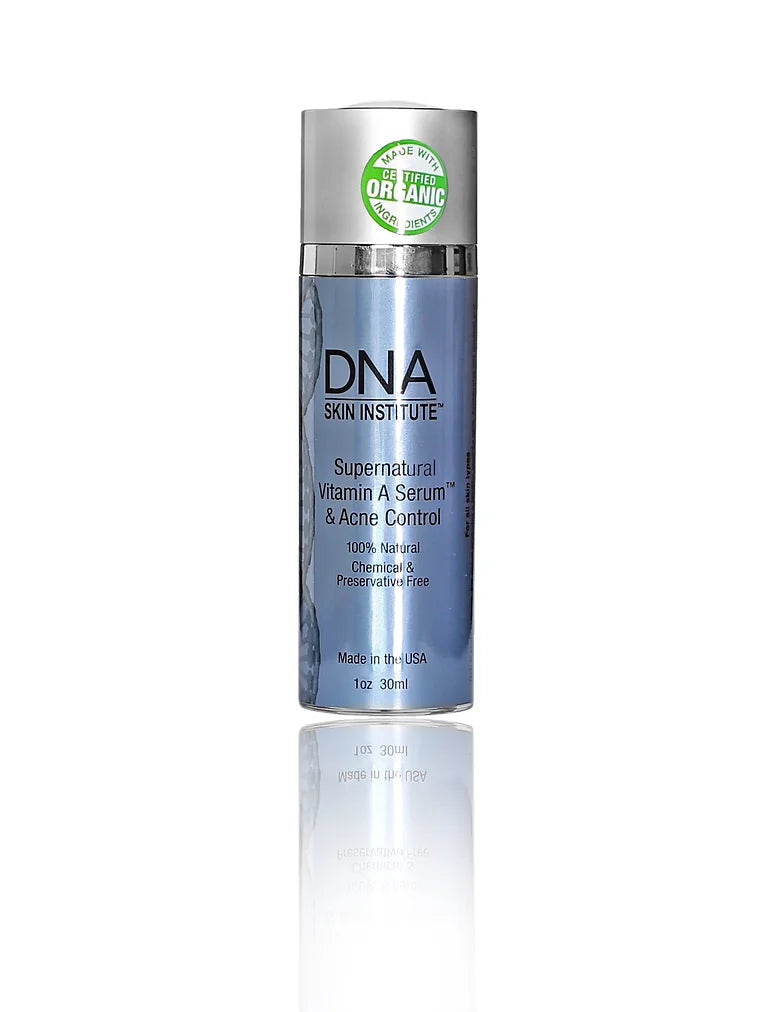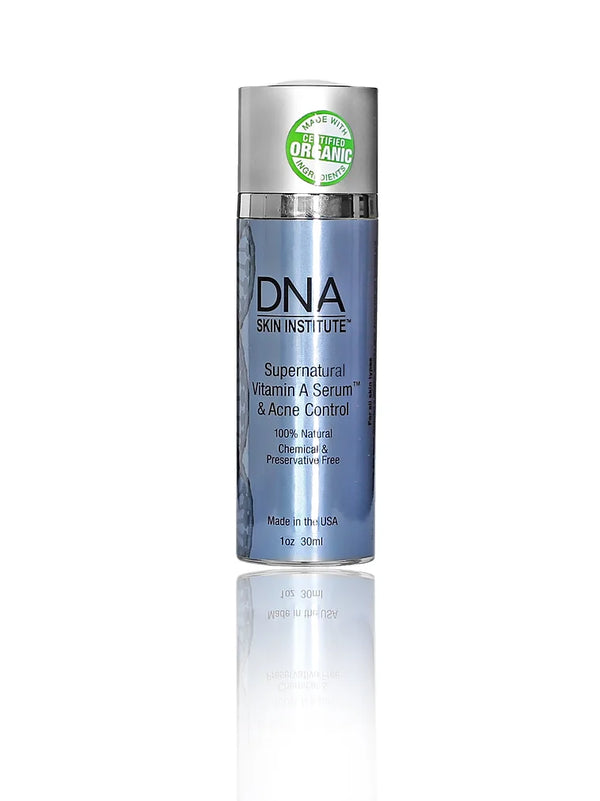 DNA SKIN INSTITUTE SUPERNATURAL VITAMIN A + ACNE CONTROL
Regular price
$135.00
/
---
Overview
This remarkable therapeutic anti-aging crème, rich in Vitamin A and phyto-nutrients, supports and accelerates new cell growth for rapid transformation of the skin. It moisturizes, softens and helps diminish fine lines and wrinkles and balances skin pigmentation, while healing and promoting healthier facial tissue.
Description
Skin Type: All
Key Features:
• Accelerates cell renewal
• Healing to delicate tissue
• Gently exfoliates the skin
• Supports the regeneration of scar tissue
• Can be used as a moisturizer for normal to oily skin types
• Because of the Vitamin A content, this treatment serum may be drying to some skin types when used on a daily basis. For dry/mature skin, blend or follow with the moisturizer suggested by your Beauty Nook Skin Specialist  
Aromatic Therapeutic Influence:
• Uplifting to the senses and emotions
• Has natural anti-depressant qualities
Directions: 
After thoroughly cleansing the skin, apply Supernatural Vitamin A Serum™ over entire face, neck and decolette (upper chest area), using long sweeping upward motions. Can be mixed with Blemish Booster Shots™ to balance hyperpigmented skin and help to promote the healing of scar tissue.
Ingredients
COMPLETE INGREDIENTS:
Steam Distilled Water, Witch Hazel Extract, Natural Grain Alcohol, Glycerin, Azelaic Acid, Salicylic Acid, Niacinamide, Potassium Sorbate, Sandalwood Oil, Hydrolyzed Yeast Protein, Pyridoxine HCI, Alantoin, Biotin, Xanthan Gum, Propolis Extract, Retinol, Bisabolol (L-alpha), Lactic Acid, Cholic Acid (D), Panthenol (D)

DESCRIPTION OF INGREDIENTS NATURAL GRAIN ALCOHOL
This is a disinfectant and it accelerates penetration.

GLYCERIN
Glycerin is a vegetable fat used as a humectant to keep skin from getting too dry.

AZELAIC ACID
A natural alternative to hydroquinone, this acid is derived from caster oil and helps to lighten pigmentation caused from breakouts. It also exfoliates skin.
SALICYLIC ACID
Derived from the bark of the sweet birch tree, it is a natural (BHA) Beta Hydroxy Acid. Its keratolytic activity helps dissolve and exfoliate top layer of corneam cells. It has natural preservative, antimicrobial, and antiseptic qualities.

NIACINAMIDE
This Vitamin B is the vital precursor to the body's coenzymes in ATP production and is an anti-inflammatory. Potassium Sorbate Potassium Sorbate is a natural stabilizer derived from bananas.

SANDALWOOD OIL
Sandalwood oil has traditionally been used in Ayurvedic medicine and for skin revitalization. Contains components that produce outstanding moisturizing benefits, which leave the skin supple and dewy.

HYDROLYZED YEAST PROTEIN
This protein helps regulate oil production.

PYRIDOXINE HCL
Pyridoxine HCL, also known as Vitamin B6, is derived from yeast and fights P. acne bacteria.

ALLANTOIN
Allantoin is derived from comfrey leaves and is an anti-inflammatory and a wound healer.

BIOTIN
Also known as vitamin H or B7, Biotin is used in cell growth, the production of fatty acids, and metabolism of fats and amino acids. It plays a role in the Kreb cycle, the process in which energy is released from food.

XANTHAN GUM
Linoleic acid is effective for preventing roughness and dryness and quickly counteracts these conditions if already present in skin.

PROPOLIS EXTRACT
Propolis is a natural antibiotic known as nature's penicillin. It is rich in Vitamins A, B1, B2, B3 bioflavanoids.

RETINOL: Retinol aids in exfoliation and fibroblast stimulation for collagen production.

BISABOLOL (L-ALPHA): Bisabolol is a natural soothing ingredient that helps calm down and balance skin.

LACTIC ACID: Lactic acid enhances the quality of the skin, treats various skin concerns, and has anti-aging properties.
CHOLIC ACID: Cholic acid is a plant based acid that reduces the production of oil.

PANTHENOL
Panthenol stimulates cell proliferation, tissue repair, and promotes normal keratinization of the skin. In addition, it is a penetrating moisturizer, aids in wound healing and protects the skin against sunburn. It is also a humectant, skin softener, and an anti-inflammatory agent.