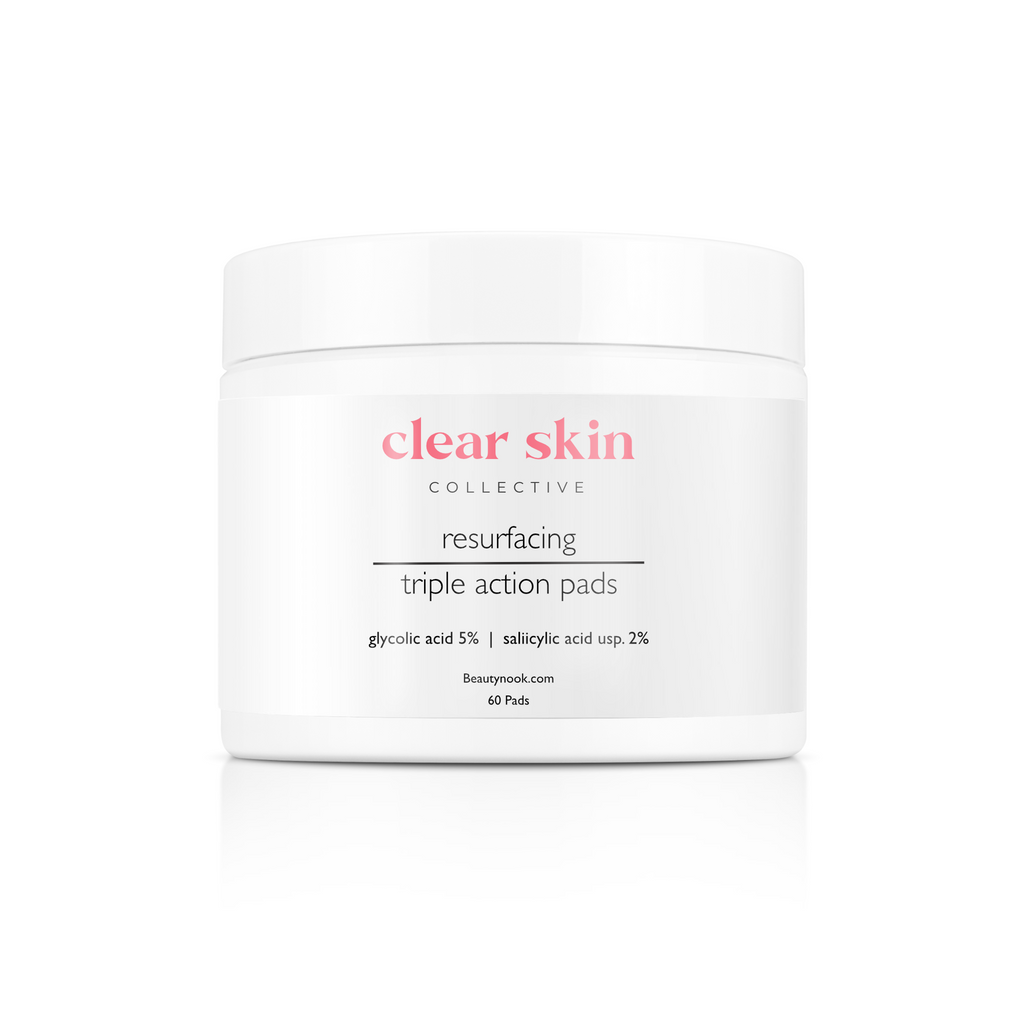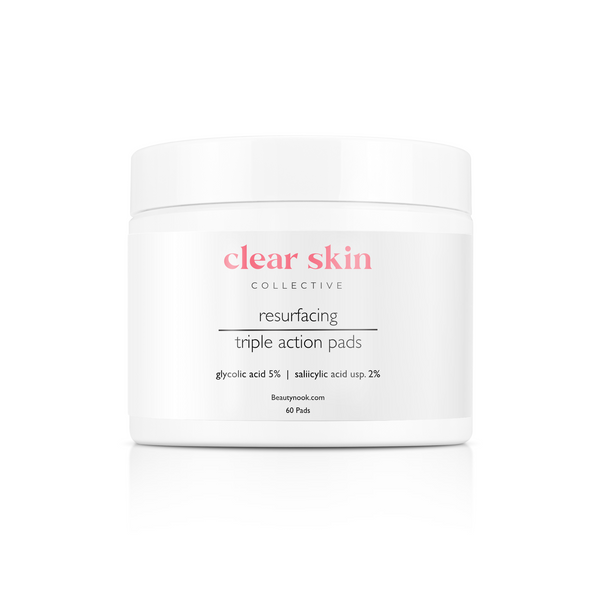 Clear Skin Collective RESURFACING TRIPLE Action Pads
Regular price
$76.00
/
---
TRIPLE ACTION RESURFACING PADS | 60 pads
AHA (5%) + BHA (2%)
Ultra-performing formula with maximum efficacy
Stimulates exfoliation and cell regeneration
Reduces skin imperfections (pimples, blackheads and acne scars)
Reduces hyperpigmentation and redness
Offers intensified anti-aging action
Benefits
Professional skin care
With its unique combination of 5% AHA (glycolic, citric acids) and 2% salicylic acid, Clear Skin Collective's TRIPLE ACTION PEELING exfoliating pads help normalize sebum production, even and brighten skin tone, smooth fine lines and wrinkles, and stimulate collagen and elastin production. They help improve the appearance of skin imperfections and enhance its radiance. A soothing aesthetic medicine complex containing witch hazel water and powerful antioxidant and anti-inflammatory active ingredients helps reduce redness and improve texture.
* If your skin is reactive or sensitive, please start with Clear Skin Collective regular strength Action Pads. 
These pre-soaked pads are ideal for traveling, after the gym and whenever you're on the go.
Results
Consumer perception results of a 6-week patient trial using the Clear Skin Collective Acne Bootcamp regimen, which includes Acne Cleanser BP 5%, Triple Action Pads, 5% BP Spot Treatment and Matte Gel Hydration Cream:
100% reduced acne on skin
100% reduced excess oil on my skin
89% reduced blackheads and whiteheads on skin
88% skin texture significantly improved
92% acne breakouts significantly reduced
86% skin feels softer and smoother 
Exfoliating pads that respect your skin and the environment
100% biodegradable
Easy to use
Non-abrasive, non-drying
How To Use
Clean your skin thoroughly, then apply to affected areas up to three times a day, gradually increasing as needed. If any dryness or peeling occurs, reduce use to once daily or every other day.
Ingredients
Purified Water, SD Alcohol 40B (13% v/v), Glycolic Acid, Hamamelis Virginiana (Witch Hazel) Water, Polysorbate-20, Sodium Benzoate, Imidazolidinyl Urea, Ammonium Hydroxide, Acetone, Disodium EDTA