Face Reality: Our Favourite Acne-Fighting Skincare Products
Our Favorite Acne-Fighting
As an Advanced Face Reality Skincare partner, we couldn't recommend Face Reality Skincare at Beauty Nook more!
---
Clinical-grade ingredients
Face Reality Skincare combines the best of clinical-grade ingredients with fully customizable product combinations.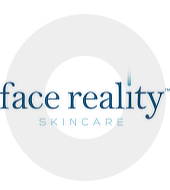 Why? Well, with its over 90% success rate, promise to clear skin in 3-4 months, and ability to be partnered with series of bi-monthly treatments (which are available through Beauty Nook either in our treatment room or virtually if you can't make it in).
---
Although we at Beauty Nook love and use all 32 of Face Reality Skincare's extensive anti-acne line, today we are highlighting three of our top picks for keeping acne at bay year-round.
---
Grappling with body acne?
Recommended for normal-to-oily skin types...
that are prone to acne, folliculitis, and/or hyperpigmentation, this mandelic-acid based body wash has been formulated to expertly mitigate hyperpigmentation, shaving bumps, body acne, and even fungal folliculitis.
Thanks to its infusion of acne-fighting green tea extract and antioxidant-rich grape seed extract, this trusted product is a sulfate-free gel-based cleanser that deeply cleanses the skin without running the risk of over-drying. The result? A product that fights even the most stubborn of body acne, day in and day out.
---
Packed with antioxidant and antibacterial properties...
A common misconception is that adding oils or moisturizer to one's anti-acne routine,
will force pores to overproduce sebum and, in turn, kickstart the development of more acne.
---
The daily application of sunscreen is a non-negotiable...
---
when it comes to fading acne scars, mitigating the risk of visible premature aging, and warding off sun spots and hyperpigmentation.
The Face Reality - Daily SPF 30,
acts as the perfect lightweight sunscreen for daily protection. Suitable even for those with medium-to-dark skin tones, this cast-free SPF is makeup-compatible and long-lasting.
---
Start Your Face Reality Skincare Journey Today Through Beauty Nook
---